This past Saturday, I spent a couple of hours at my local farmers market. I can't even begin to describe how giddy it made me to walk up and down the streets. I loved being able to chat with the local farmers. The Wisconsin weather has taken a huge hit on the crops around here. We had virtually no snow last winter and the spring and summer have been outrageously hot. Spring crops like cherries were virtually non-existent, and the poor corn, beans, and zucchini are just scrawny and dried out. About the only crops that haven't suffered too terribly bad are the tomatoes. Many of the farmers grow them hydroponically or in hot houses, so we've had some luscious looking beefsteak, plum, and cherry tomatoes. Even the heirloom turned out well, so I definitely took advantage of the situation and bought some gorgeous yellow ones. I wanted to use them in a dish where they would become the shining star, so this salsa recipe was just the ticket!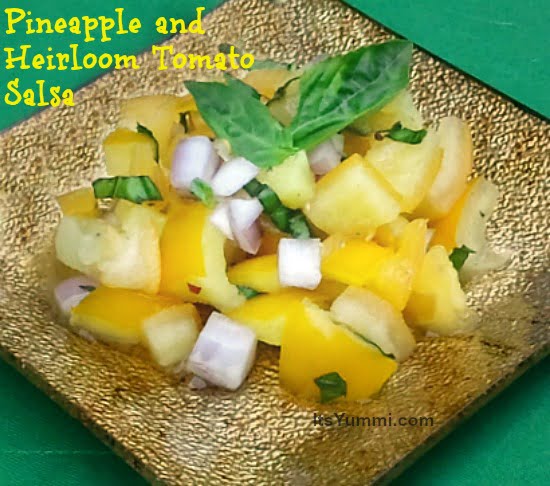 This salsa is light and refreshing, with just a tiny bite from the diced Chile peppers. Depending on how spicy you like your food, you could also use diced jalapeno peppers or even something hotter like habeneros. I served this over broiled Haddock and it was awesome, but it would make a perfect snack with some chips or crackers, too!
SPICY YELLOW TOMATO & PINEAPPLE SALSA
Yield: 4 cups 2-3 Heirloom (yellow) tomatoes, seeded and medium diced 1 cup fresh pineapple, diced 3 Tablespoons fresh pineapple juice 2/3 cup red onion, finely diced 1 fresh jalapeño, Serrano, or Habanero pepper, seeded and minced 1/4 cup fresh basil leaves, finely chopped Kosher salt and freshly-ground black pepper to taste Combine all ingredients except salt, pepper, and basil together in a non-reactive bowl and refrigerate 2 hours, stirring occasionally to allow the flavors to combine. Season to taste with sea salt and freshly ground black pepper. Top with basil and keep chilled until ready to serve.